Honoring the world's Untapped Top 30 pro-social digital marketers and entrepreneurs
Award winners selected for their support of the Social Enterprise Efforts: Digital Marketing Summit benefiting Ugandan Water Entrepreneurs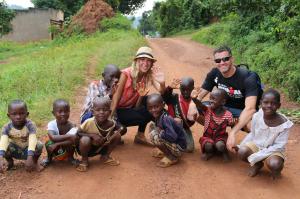 , Elizabeth and Patrick Shores, Summit Co-hosts and Founders of the Untapped Top 30 Social Entrepreneur Awards
Untapped Shores International announces the selection of the "Untapped Top 30 Social Entrepreneurs" Award winners live during their annual summit.
ROCHESTER, NY, USA, January 27, 2018 /EINPresswire.com/ — Untapped Shores International announces the selection of the "Untapped Top 30 Social Entrepreneurs" which honors 30 of the top pro-social digital marketing professionals in the world.
The Class of 2017 winners will be recognized at the 2018 Untapped Marketing Secrets Summit, taking place January 25-27.
Candidates are distinguished by professional achievements, industry leadership, and charitable service endeavors, and were selected by a group of experienced professionals from Untapped Shores International's current leadership.
"We realize the importance of infusing service and a spirit of giving back into every business model," said Untapped Shores CEO Patrick Shores. Executive Director Elizabeth Schirmer Shores added, "Our continued success as one of the world's leading safe water social enterprise charities depends in part on our ability to identify and promote future leaders in the digital business arena."
These honorees were chosen from small and medium-size businesses that they founded or co-founded from every region of the country, and represent diverse industry areas such as marketing, advertising, consulting, lead generation, branding, finance, and more.
The 2017 Untapped Top 30 Social Entrepreneur Award winners are:
Hannah Ashcroft
Bushra Azhar
Liz Benny
Ellie Burscough
Casey Casburn
Chee Chai
Trevor Chapman
Dan Culver
Jocelyn and Aaron Freeman
Jason Goldberg
Kandra Hamric
Dan Henry
Michelle Jamesina
Virginia Salas Kastilio
Morgan Lapresi
Leah Latini
Kathy McDougal
Tara Simionescu
Akbar Sheikh
Mitchell Sholly
Randy Sleem
Rashad Sleem
Julie Stoian
Rhonda Swan
Chad Thibodeaux
Rita Veiga
Dave Williams
Chase Woodhams
James Wrest
Angela Wright
Nominations for the class of 2018 can be submitted via the contact form on the organization's website, https://untappedsecrets.com, through which professionals can nominate themselves or a colleague.
For more information or to nominate an individual for the Untapped Top 30 Social Entrepreneur Award Class of 2018, visit https://untappedsecrets.com.
###
Untapped Shores International is a 501(c)(3) social enterprise that exists to bring novel clean water technology to the most vulnerable populations and disaster relief zones around the world. Their flagship technology is a handheld device which is compact enough to fit in a child's hand and is powered simply by sunlight and salt water. This portable equipment is deployed as a "water business-in-a-box" with entrepreneurs in developing areas, and can create clean water for up to 2,000 people per day. Untapped Shores is empowering women, orphans, and rural villagers to sustainably impact their community health outlook in as little as one day. For additional information, visit https://untappedshores.org.
Elizabeth Shores
Untapped Shores International
(585) 376-0803
email us here
Ready to Untap Your Profit Potential in your Online Business Today?

Source: EIN Presswire